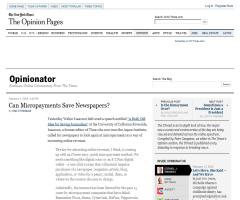 Walter Isaacson, ex editor de Time, que ahora dirige el Instituto Aspen, pronunció un discurso titulado "A Bold, Old Idea for Saving Journalism" en la Universidad de Calfornia Riverside. Isaacson, llamó la atención de los periódicos y les ánimo de nuevo a considerar los micropagos como una forma de aumentar los ingresos en línea.
Su dicurso se centra en la siguienteidea: "The key for attracting online revenue, I think, is coming up with an iTunes-easy, quick micropayment method. We need something like digital coins or an E-Z Pass digital wallet – a one-click system that will permit impulse purchases of a newspaper, magazine, article, blog, application, or video for a penny, nickel, dime, or whatever the creator chooses to charge".
El autor de este artículo de The New York Times es Eric Etheridge.
Es respecta la llicència original del recurs.