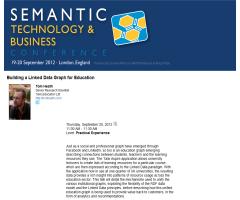 En esta charla Tom Heath, Senior Research Scientist de Talis Education, presentará Talis Aspire application, que permite a los investigadores crear listas de recursos de aprendizaje para un curso, según los requisitos de la nube LOD. A partir de esta aplicación, se generan patrones y recomendaciones. La charla tendrá lugar en Semantic Technology and Business Conference (19-20 septiembre de 2012, Londres):
"Just as a social and professional graph have emerged through Facebook and LinkedIn, so too is an education graph emerging describing connections between students, teachers and the learning resources they use. The Talis Aspire application allows university lecturers to create lists of learning resources for a particular course, which are then expressed according to the Linked Data paradigm. With the application now in use at one quarter of UK universities, the resulting data provides a rich insight into patterns of resource usage across the education sector. This talk will detail the mechanisms used to unify the various institutional graphs, exploiting the flexibility of the RDF data model and the Linked Data principles, before describing how this unified education graph is being used to provide value back to customers, in the form of analytics and recommendations.
Key points:

• Talis Aspire is based on Semantic Web technologies and Linked Data principles.
• It is widely deployed across the UK Higher Education sector and used daily by large numbers of staff and students.
• The aggregate view of the resulting data provides unique, cross-sector insights.
• The techniques used to assemble this graph mirror those used to interlink the Web of Data as a whole.
Se respeta la licencia original del recurso.