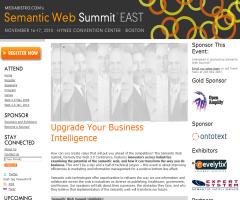 Semantic Web Summit East se celebrará en Boston el 16 y 17 de noviembre:
"How can you create value that will put you ahead of the competition? The Semantic Web Summit, formerly the Web 3.0 Conference, features innovators across industries examining the potential of the semantic web, and how it can transform the way you do business. This won't be a day and a half of technical jargon -- this event is about improving efficiencies in marketing and information management for a positive bottom line effect".
Se respeta la licencia original del recurso.