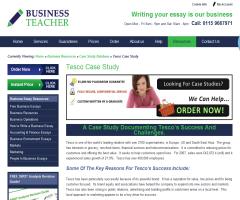 Artículo resumen de Business Teacher en el que se analiza el modelo de negocio de Tesco. Se incluye acceso a más documentos en los que se profundiza, entre otros temas, en la estrategia digital de la compañía:
"Tesco is one of the most advanced companies in consumer understanding aided by IT (e.g. Dunhumby and Tesco Clubcard data). Consumer data has i) shaped product offerings ii) ranges iii) given Tesco a better understanding of consumer segments and shopping profiles and iv) helped marketing to build loyalty and develop promotion offerings that suit target groups".

"Tesco has looked to increasing efficiency and effectiveness. Cost savings have been sought from the supply chain, through better use of IT, and from policies and management of suppliers to ensure the greatest value to the business and customer".



Se respeta la licencia original del recurso.