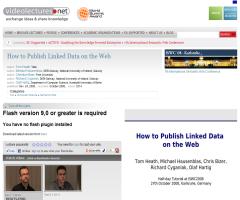 Aunque ya tiene 2 años, es una interesante presentación, en 2 vídeos de 90 minutos cada uno, en la que participan algunos de los más activos promotores de Linked Data. Tuvo lugar en la 7th International Semantic Web Conference, celebrada en Karlsruhe.
La web es, de manera creciente, no sólo un espacio de información global basada en documentos enlazados, sino también un espacio de Datos Enlazados (Linked Data). Los principios de Linked Data proporcionan una base para construir la Web de los Datos o Web Semántica. Según la Web de los Datos Enlazados se extiende, se necesitan y se desarrollan aplicaciones para explotar estos conjuntos de datos. Por tanto, hay una necesidad creciente de publicadores de datos, investigadores, desarrolladores y expertos en la Web que comprendan y exploten los Datos Enlazados. Este tutorial es un buen punto de partida. Los ponentes son:
Tom Heath, Talis
Michael Hausenblas, DERI Galway, National University of Ireland, Galway
Chris Bizer, Free University
Richard Cyganiak, DERI Galway, National University of Ireland, Galway
Olaf Hartig, Department of Computer Science, Humboldt University of Berlin
The original license is kept.