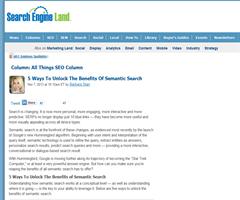 Search is changing. It is now more personal, more engaging, more interactive and more predictive. SERPs no longer display just 10 blue links — they have become more useful and more visually appealing across all device types.
Semantic search is at the forefront of these changes, as evidenced most recently by the launch of Google's new Hummingbird algorithm. Beginning with user intent and interpretation of the query itself, semantic technology is used to refine the query, extract entities as answers, personalize search results, predict search queries and more — providing a more interactive, conversational or dialogue-based search result.
Copyright
The original license is kept.