Case Study: Use of Semantic Web Technologies on the BBC Web Sites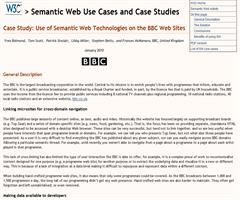 Publicación en la web de W3C del caso la utilización de tecnologías de web semántica en las páginas web de la BBC. Este caso se publicó en enero de 2010.
La presentación del caso concluye con los beneficios clave del uso de la tecnología de web semántica:
"Key Benefits of Using Semantic Web Technology
Usability—Making a site around the things people care and think about.
User Experience—Having meaningful predicates and granular, addressable resources, so that those resources can be visualised in new ways.
User Journeys—Allowing users to make their own journeys across our content. On the BBC /nature, users can start making their own documentaries. They can start on an animal, watch a programme clip, follow a link to a related habitat, read about that habitat and so on…
One page per thing—Making our resources part of the Web and therefore linkable and discoverable.
Our web site is our API—One URI for both machines and web browsers. Our web site can be used by third parties to create new products, e.g., URIPlay, TestTubeTelly, FanHubz orChannelography(*).
Loosely coupled development—Different teams can work together in a loosely coupled fashion. Each team focuses on their domain of interest."
Copyright
The original license is kept.