Data Journalism and Visualization (Open Knowledge Foundation)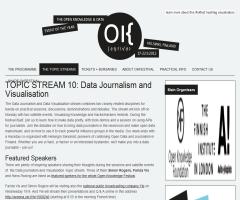 Selección de vídeos del OK Festival (Open Knowledge Foundation) en el que se incide en las posibilidades de los datos y la web semántica en el trabajo del periodista:
"The Data Journalism and Data Visualization stream combines two closely-related disciplines for hands-on practical sessions, discussions, demonstrations and debates. The stream will kick off on Monday with two satellite events, Visualizing Knowledge and Hacks/Hackers Helsinki. During the festival itself, join us to learn how to make data pretty, with tools demos and a session on using APIs for journalists. Join the debates on how to bring data journalism in the newsroom and make open data mainstream, and on how to use it to track powerful influence groups in the media. Our week ends with a Hackday co-organized with Helsingin Sanomat, pioneers of combining Open Data and Journalism in Finland. Whether you are a Hack, a Hacker or an interested bystander, we'll make you into a data journalist – join us!"
Copyright
The original license is kept.