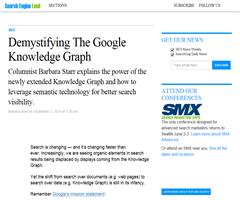 En este artículo publicado en Search Engine Land, Barbara Starr explica la potencia que tiene la aplicación de las tecnologías semánticas a la hora de enriquecer y extender el grafo de conocimiento que Google está creando, pasando de "strings a things" y cumpliendo la misión que se ha fijado:
"Google's mission is to organize the world's information to make it universally accessible and useful"
Finaliza el artículo dando una serie de consejos a la hora de elaborar una estrategia de SEO que incorpore el SEO Semántico y favorezca la construcción de este grafo de conocimiento. Estas serían:
"In summary, there is a lot you can do to optimize a web page for the Knowledge Graph. My primary strategy, as discussed in this piece, is outlined here:
Determine what entities you want to target.
Determine what topics are of interest to your audience.
Send a strong signal your site is writing about that topic to the search engines by using structured markup (explicit entities).
Corroborate the information and strengthen that signal with the content you place on your site (implicit entities).
Remember: entities are not keywords, so do not treat them as such. A mere mention in the appropriate context can be a powerful signal.
The original license is kept.