DiscOU (The Open University)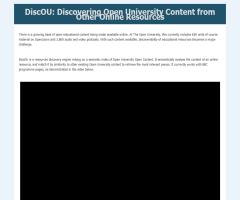 DiscOU is a resources discovery engine relying on a semantic index of Open University Open Content. It semantically analyse the content of an online resource, and match it by similarity to other existing Open University content to retrieve the most relevant pieces.
DiscOU is developed at the Knowledge Media Institute of the Open University, based on linked data techonologies.
The resource includes a video with a demo of DiscOU system, that suggest content from Open University open educational resources based on semantically analysing their similarity and relationship with other resources. The video shows the system applied to a BBC programme ("The Secret Life of Chaos").
Copyright
The original license is kept.