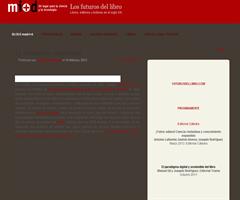 En este artículo publicado por Joaquín Rodríguez en el espacio digital Madrimasd, se reflexiona sobre los modos de edición digital y como esta posibilidad influye en el actual mercado editorial científico. Además de la reflexión se incopora un Manual de Buenas Prácticas para la edición digital de contenidos científicos. El artículo comienza así:
"En realidad, la primavera académica comenzó alrededor de 1980, cuando Tim Berners Lee propuso su modelo de comunicación hipertextual entre la comunidad de físicos de altas energías. Los frutos de aquel descubrimiento han tardado incluso más de lo previsto, porque desde aquella fecha los científicos recuperaban el control pleno sobre los medios y los modos de producción, circulación, comunicación y certificación de los contenidos que ellos mismos creaban. Lo demás es cuento y ganas de perder el tiempo: pronto se vio que la la edición científica era la locomotora digital de la revolución en curso, que las revisas y cabeceras que iban ganando independencia respecto a las sujeciones editoriales era cada vez mayor. Hoy en día, la relación de revistas del DOAJ alcanza casi las 7500 revistas, y el incremento de las cabeceras que publican en abierto bajo algún regimen de licencia Creative Commons o similares, ha crecido exponencialmente, tal como puede leerse en The Development of Open Access Journal Publishing from 1993 to 2009:
The original license is kept.