Los grafos de conocimiento de nuevo en 2019 el 'Hype Cycle for Emerging Technologies de Gartner
Los Grafos de Conocimiento siguen en 2019 en la zona de subida del Hype Cycle for Emerging Technologies 2019 de Gartner. Los encontramos por primera vez en los 'hype cycle' de Gartner el año pasado tanto en el de Emerging Technologies como en el de Inteligencia Artificial 2018.
Este año agrupa las tecnologías emergentes en 5 tendencias:
Sensorización y movilidad.
Humanos aumentados.
Computación y comunicación "postclásicas".
Ecosistemas digitales.
Inteligencia Artificial avanzada y analítica.
Gartner publicó su informe el 2 de agosto de 2019 en: https://www.gartner.com/en/documents/3956015 (puedes ver el resumen y la tabla de contenidos más abajo) y el 29 de agosto un resumen de su informe en el que comenta las novedades respecto a estas cinco tendencia. Puedes leer el artículo en el siguiente enlace: https://www.gartner.com/smarterwithgartner/5-trends-appear-on-the-gartner-hype-cycle-for-emerging-technologies-2019/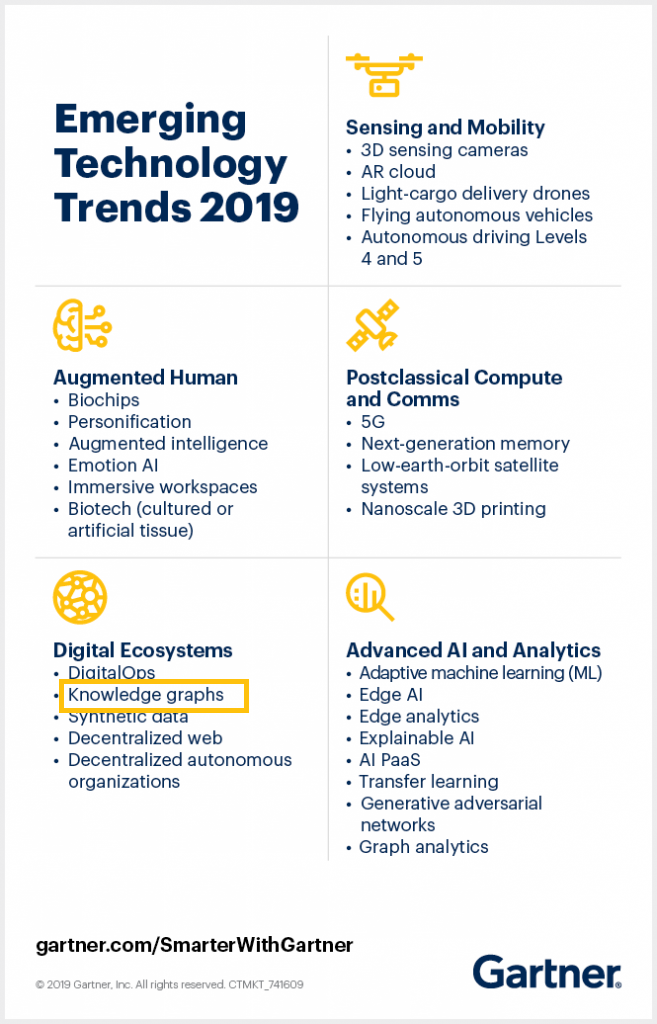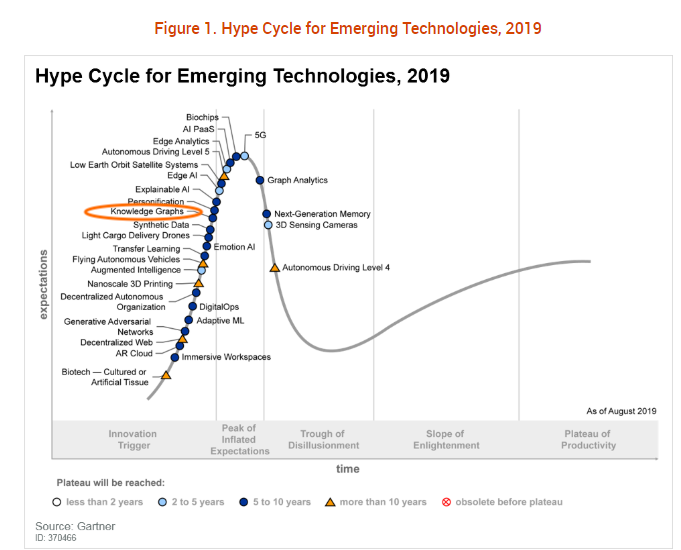 Published: 06 August 2019
ID: G00370466
Analyst(s): David Smith , Brian Burke
Summary:
The 2019 Hype Cycle highlights the emerging technologies with significant impact on business, society and people over the next five to 10 years. This year includes technologies that promise to deliver a global low-latency internet, create a virtual map of the real world and mimic human creativity.
Table of contents:
Analysis
What You Need to Know
The Hype Cycle
The Priority Matrix
Off the Hype Cycle
On the Rise

Biotech — Cultured or Artificial Tissue
Immersive Workspaces
AR Cloud
Decentralized Web
Generative Adversarial Networks
Adaptive ML
DigitalOps
Decentralized Autonomous Organization
Nanoscale 3D Printing
Augmented Intelligence
Flying Autonomous Vehicles
Transfer Learning
Emotion AI
Light Cargo Delivery Drones
Synthetic Data
Knowledge Graphs
Personification
Explainable AI

At the Peak

Edge AI
Low Earth Orbit Satellite Systems
Autonomous Driving Level 5
Edge Analytics
AI PaaS
Biochips
5G
Graph Analytics

Sliding Into the Trough

Next-Generation Memory
3D Sensing Cameras
Autonomous Driving Level 4

Appendixes

Hype Cycle Phases, Benefit Ratings and Maturity Levels
Copyright
The original license is kept.