4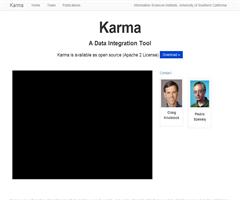 Karma is an information integration tool that enables users to quickly and easily integrate data from a variety of data sources including databases, spreadsheets, delimited text files, XML, JSON, KML and Web APIs. Users integrate information by modeling it according to an ontology of their choice using a graphical user interface that automates much of the process. Karma learns to recognize the mapping of data to ontology classes and then uses the ontology to propose a model that ties together these classes. Users then interact with the system to adjust the automatically generated model. During this process, users can transform the data as needed to normalize data expressed in different formats and to restructure it. Once the model is complete, users can published the int...
Shubham Gupta, Pedro Szekely, Craig A. Knoblock, Aman Goel, Mohsen Taheriyan, and Maria Muslea
University of Southern California
Information Sciences Institute and Department of Computer Science
The Linked Data cloud contains large amounts of RDF data generated from databases. Much of this RDF data, generated using tools such as D2R, is express...
Muchas webs en las que la actividad del usuario ocupa un lugar central ponen en marcha sistemas de karma: indicadores de la reputación del usuario dentro de la comunidad. ¿Cómo se construye? El karma se construye observando la actividad del usuario dentro del site: la cantidad de veces que realiza una acción (o que se deja de realizar) y el tipo de acción realizada. Por ejemplo, el karma de un usuario sumará puntos si: se loguea de forma periódica en la comunidad; si vota o comenta en el contenido de otros; si él mismo crea contenido (en este caso probablemente recibirá más puntos que simplemente por comentar). Por el contrario, si no visita el site o vota o crea contenido durante un periodo de tiempo determinado, su kar...