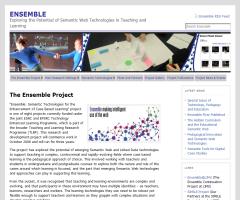 The Ensemble Project
"Ensemble: Semantic Technologies for the Enhancement of Case Based Learning" project is one of eight projects currently funded under the joint ESRC and EPSRC Technology Enhanced Learning Programme, which is part of the broader Teaching and Learning Research Programme (TLRP). This research and development project will commence work in October 2008 and will run for three years.
The project has explored the potential of emerging Semantic Web and Linked Data technologies to support teaching in complex, controversial and rapidly-evolving fields where case based learning is the pedagogical approach of choice. This involved working with teachers and students in undergraduate and postgraduate courses to explore both the nature and role of the cases around which learning is focused, and the part that emerging Semantic Web technologies and approaches can play in supporting this learning.
From the outset, it was recognised that teaching and learning environments are complex and evolving, and that participants in these environment may have multiple identities – as teachers, learners, researchers and workers. The learning technologies they use need to be robust yet flexible enough to support teachers and learners as they grapple with complex situations and develop creative solutions
Baliabidearen jatorrizko lizentzia errespetatzen da.