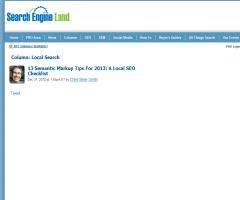 Serie de recomendaciones SEO basadas en tecnología semántica:
"One of the least-tapped areas of local business website optimization continues to be semantic markup. Semantic markup can increase chances that information from your website will be highlighted in search engine results pages via rich snippets, attracting greater attention and clickthroughs".
Se respeta la licencia original del recurso.