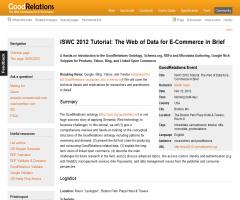 A Hands-on Introduction to the GoodRelations Ontology, Schema.org, RDFa and Microdata Authoring, Google Rich Snippets for Products, Yahoo, Bing, and Linked Open Commerce
GoodRelations Event
Title
ISWC 2012 Tutorial: The Web of Data for E-Commerce in Brief
Instructor
Martin Hepp
Date
Nov 12, 2012
Time
Morning (half-day)
Country
USA
City
Boston, MA
Location
The Boston Park Plaza Hotel & Towers, Room 8
Tags
linkeddata, semanticweb, tutorial, rdfa, microdata, goodrelations
Language
English
Audience
researchers and practitioners
URL
http://iswc2012.semanticweb.org/

Breaking News: Google, Bing, Yahoo, and Yandex integrated the full GoodRelations vocabulary into schema.org! We will cover the technical details and implications for researchers and practitioners in detail!
Summary
The GoodRelations ontology (http://purl.org/goodrelations/) is one huge success story of applying Semantic Web technology to business challenges. In this tutorial, we will (1) give a comprehensive overview and hands-on training on the conceptual structures of the GoodRelations ontology including patterns for ownership and demand, (2) present the full tool chain for producing and consuming GoodRelations-related data, (3) explain the long-term vision of linked open commerce, (4) describe the main challenges for future research in the field, and (5) discuss advanced topics, like access control, identity and authentication (e.g. with WebID); micropayment services (like Payswarm), and data management issues from the publisher and consumer perspective.
Se respeta la licencia original del recurso.