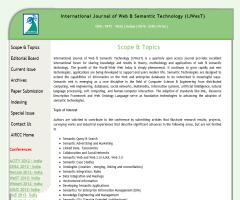 La revista International journal of Web & Semantic Technology (IJWesT) se trata de una revista de acceso abierto para compartir resultados en teoría, metodología y aplicaciones de la Web y tecnología semántica.
Entre las áreas de interés incluye:
Semantic Query & Search
Semantic Advertising and Marketing
Linked Data, Taxonomies
Collaboration and Social Networks
Semantic Web and Web 2.0/AJAX, Web 3.0
Semantic Case Studies
Ontologies (creation , merging, linking and reconciliation)
Semantic Integration, Rules
Data Integration and Mashups
Unstructured Information
Developing Semantic Applications
Semantics for Enterprise Information Management (EIM)
Knowledge Engineering and Management
Semantic SOA (Service Oriented Architectures)
Database Technologies for the Semantic Web
Semantic Web for e-Business, Governance and e-Learning
Semantic Brokering, Semantic Interoperability, Semantic Web Mining
Semantic Web Services (service description, discovery, invocation, composition)
Semantic Web Inference Schemes
Semantic Web Trust, Privacy, Security and Intellectual Property Rights
Information discovery and retrieval in semantic web;
Web services foundation, Architectures and frameworks.
Web languages & Web service applications.
Web Services-driven Business Process Management.
Collaborative systems Techniques.
Communication, Multimedia applications using web services
Virtualization
Federated Identity Management Systems
Interoperability and Standards
Social and Legal Aspect of Internet Computing
Internet and Web-based Applications and Services
Se respeta la licencia original del recurso.