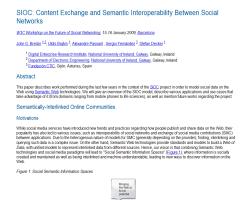 'SIOC: Intercambio de información e interoperabilidad semántica entre redes sociales', por John G. Breslin, Uldis Bojārs, Alexandre Passant, Sergio Fernández y Stefan Decker, es uno de los artículos del taller de trabajo de W3C sobre el futuro de las redes sociales (W3C Workshop on the Future of Social Networking), que tuvo lugar en Barcelona los días 15 y 16 de enero de 2009.
El artículo describe el trabajo realizado durante los últimos años en el contexto del proyecto SIOC con el objeto de modelar los datos sociales en la web usando tecnologías de la web semántica. El proyecto SIOC tiene como objetivo la integración de la información de diferentes comunidades online mediante interoperabilidad semántica. Los autores proporcionan una visión general sobre el modelo SIOC, describen varias aplicaciones y casos de uso que las aprovechan (desde teléfonos móviles hasta ciencias de la vida) y también tratan sobre futuros trabajos en relación con el proyecto. El documento contiene los siguientes apartados:
Comunidades online interconectadas semánticamente.


La ontología SIOC.




Un modelo ligero y comprensible

Extendiendo SIOC a través del módulo de tipos
Relaciones con otros vocabularios

SIOC en uso


SIOC y web 2.0
SIOC para la integración de datos de la empresa 2.0
SIOC y ciencias de la vida
SIOC para aplicaciones de teléfonos móviles

Extendiendo y reutilizando SIOC


Modelado de la presencia online
Portabilidad de etiquetas

Conclusiones y trabajo futuro
Referencias
"This paper describes work performed during the last few years in the context of the SIOC project in order to model social data on the Web using Semantic Web technologies. We will give an overview of the SIOC model, describe various applications and use cases that take advantage of it (from domains ranging from mobile phones to life sciences), as well as mention future works regarding the project."
The original license is kept.