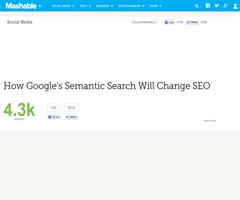 While the SEO game has changed drastically over the past months, one thing has remained fairly consistent: It's been driven by keywords — keywords in your URL structure, your META tagging, your content, your links. Whatever way you slice it, keywords are everywhere in SEO.
SEE ALSO: How Google's Social Search Shift Will Impact Your Brand's SEO
Even among Google's most recent algorithm updates — Panda, Search Plus Your World and Venice, to name a few — keywords remained relatively unscathed. But the upcoming update to move Google to semantic search technology, according to top Google Search executive Amit Singhal, is adding a whole new element to the game: the human element.
Erin Everhart is the director of web and social media marketing at 352 Media Group, a digital marketing agency that also provides web and mobile app development. Connect with her on Twitter @erinever.
The original license is kept.