Mejoras en Linked Open Vocabularies (LOV)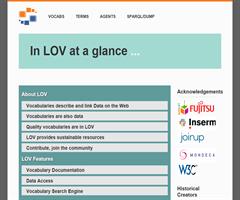 El proyecto Linked Open Vocabularies (LOV) continúa en su tarea de eliminar las barreras que la selección de vocabularios puede provocar a los publicadores de datos en el desarrollo de sus proyectos Linked Data.
Un reciente paper, Linked Open Vocabularies (LOV): a gateway to reusable semantic vocabularies on the Web, premiado con el Semantic Web Outstanding Paper Award 2017, describe LOV como un catálogo de vocabularios reutilizables de alta calidad, para la descripción de datos en la Web. La iniciativa LOV recopila y hace visible indicadores que no habían sido previamente recopilados, como la interconexión entre vocabularios o el historial de versiones
Copyright
The original license is kept.