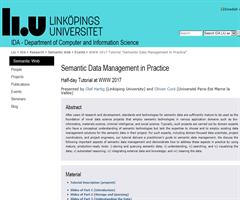 After years of research and development, standards and technologies for semantic data are sufficiently mature to be used as the foundation of novel data science projects that employ semantic technologies in various application domains such as bio-informatics, materials science, criminal intelligence, and social science. Typically, such projects are carried out by domain experts who have a conceptual understanding of semantic technologies but lack the expertise to choose and to employ existing data management solutions for the semantic data in their project. For such experts, including domain-focused data scientists, project coordinators, and project engineers, our tutorial delivers a practitioner's guide to semantic data management. We discuss the following important aspects of semantic data management and demonstrate how to address these aspects in practice by using mature, production-ready tools:
i) storing and querying semantic data;
ii) understanding,
iii) searching, and
iv) visualizing the data;
v) automated reasoning;
vi) integrating external data and knowledge; and
vii) cleaning the data.
The original license is kept.