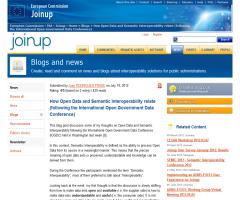 Resumen del capítulo de la International Open Government Data Conference (IOGDC), celebrada en julio de 2012 en Washington, sobre la relación entre datos abiertos e interoperabilidad semántica. El documento analiza estándares emergentes (dcat y ADMS) en este campo.
"Semantic Interoperability is defined as the ability to process Open Data from its source in a meaningful manner. This means that the precise meaning of open data sets is preserved, understandable and knowledge can be derived from them".
"There is already today a reasonable consensus among most stakeholders on the importance of Semantic Interoperability. The 3 most mentioned reasons were that semantic interoperability is required for:
1) Making Open Data understandable to a broader audience
2) Data-sets from heterogeneous data sources to be combined (e.g. data sets from different localities, regions, countries, sectors, etc.) and for comparability between data sets from the same source in different time-periods and across data sources;
3) Enabling the creation of application programming interfaces (APIs) which allow Open Data to flow seamless between applications"
Se respeta la licencia original del recurso.