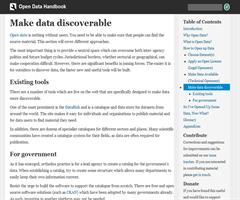 Interesante sección del Open Data Handbook en el que se aconseja y alienta a hacer los datos recuperables, fundamentalmente en estrategias de Open Government y Sociedad Civil:
"The most important thing is to provide a neutral space which can overcome both inter-agency politics and future budget cycles. Jurisdictional borders, whether sectorial or geographical, can make cooperation difficult. However, there are significant benefits in joining forces. The easier it is for outsiders to discover data, the faster new and useful tools will be built".
Se respeta la licencia original del recurso.