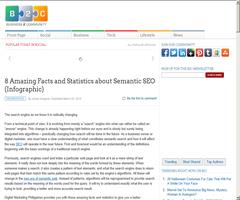 Previously, search engines crawl and index a particular web page and look at it as a mere string of text elements. It really does not look deeply into the meaning of the words formed by these elements. When someone makes a search, it also creates a pattern of text elements, and what the search engine does is return web pages that best match this same pattern according to rules set by the engine's algorithms. All these will change in the new era of semantic web. Instead of patterns, algorithms will be reprogrammed to provide search results based on the meaning of the words used for the query. It will try to understand exactly what the user is trying to look, providing a better and more accurate search result.
Digital Marketing Philippines provides you with these amazing facts and statistics to give you a better understanding of Semantic SEO and how it can help you with your digital marketing efforts in the near future.
Read more at http://www.business2community.com/infographics/8-amazing-facts-statistics-semantic-seo-infographic-0823568#Wt2JOJTEMDowW4ch.99
The original license is kept.