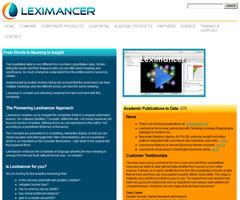 Herramienta que genera conceptos a partir de los textos, y los representa en un interfaz que permite visualizaciones y consultas sobre la conexión entre conceptos. Dispone tanto de herramienta de escritorio como un interfaz de servicio web ( REST API).
Es una herramienta de pago, y dispone de versión de prueba.
"Leximancer enables you to navigate the complexity of text in a uniquely automated fashion. The software identifies 'Concepts' within the text - not merely keywords but focused clusters of related, defining terms as conceptualised by the Author. Not according to a predefined dictionary or thesaurus.
The Concepts are presented in a compelling, interactive display so that you can clearly vis... Tom Johnson has written an article sharing Seth Earley's insights regarding taxonomy, metadata, and search. At a recent workshop, "Seth outlined a three-prong approach to information management: (1) Develop a taxonomy. (2) Apply the taxonomy to your content. (3) Leverage the taxonomy to view your content in different ways." According to Johnson, "Taxonomy is one of those vague words whose meaning seems a bit slippery, but Seth was adamant that taxonomy is not navigation, though it affects navigation. By taxonomy, we're referring to 'a system for organizing concepts and categorizing content.' A taxonomy is your metadata, 'arranged in a tree-like structure, with top level categories that branch out to reveal subcategories and terms ...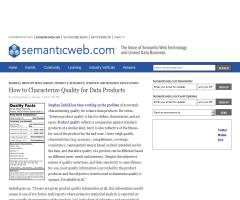 Stephan Zednik has been working on the problem of accurately characterizing quality for science data products. He writes, "Science product quality is hard to define, characterize, and act upon. Product quality reflects a comparison against standard products of a similar kind, but it is also reflective of the fitness-for-use of the product for the end-user. Users weigh quality characteristics (e.g. accuracy, completeness, coverage, consistency, representativeness) based on their intended use for the data, and therefore quality of a product can be different based on different users' needs and interests.  Despite the subjective nature of quality assertions, and their sensitivity to users fitness-for-use, most quality information is provided by the product producer and the subjective criteria ...