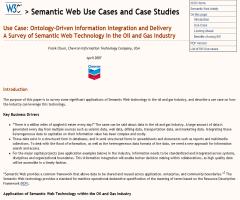 This W3C Use Case present some significant applications of Semantic Web technology in the oil and gas industry, and describe how the industry can leverage this technology.
Ontology-driven information integration and delivery leverage rich extensible domain ontologies found in the oil & gas industry, and combine them with industry standard definitions and controlled vocabularies. This results in meaningful metadata that reflects the concepts relevant to the domain. This approach is extensible, as different domain ontologies can be linked together via common elements. As this approach is not hierarchical, there isn't a single root. This means that new data and ontologies can be integrated with much flexibility, and the solution can grow incrementally. It also makes it easy to reuse elements of the repository in other contexts.
Se respeta la licencia original del recurso.