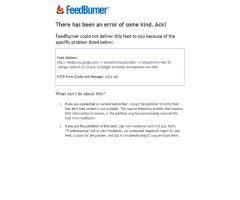 Greg Boutin opina que las compañías que están trabajando en el desarrollo de la web 3.0 están demasiado preocupadas de investigar y desarrollar tecnología y demasiado poco en el marketing, en entender de qué modo esas tecnologías satisfacen necesidades de los mercados. El resultado es un conjunto de aplicaciones que, desde el punto de vista de los mercados, resultan demasiado...incipientes o prematuras. Las empresas que están trabajando en el desarrollo de la web semántica y de la web 3.0 deberían gastarse parte de sus recursos de I+D en investigar los mercados, en conocer sus demandas latentes y en tratar de ajustar sus tecnologías a las mismas.
"In my observations on the Semantic Technology conference last month, I mentioned I would be blogging separately about the dire lack of investments by Web 3.0 start-ups in market understanding and marketing. My main claim with this post is that companies in the Web 3.0 and semantic web space are downright bad at filling unmet needs, packaging their offer effectively and cutting through the market noise to secure users and revenues. It even appears this incapacity to grow revenues has a direct impact on their ability to make money (ok, it's sunny outside, I guess that after 5 days of clouds there is no harm in having a little fun ;)"
Publicado en Semantics Incorporated: The Feed el: 7/11/2009 6:29:34 PM
Se respeta la licencia original del recurso.